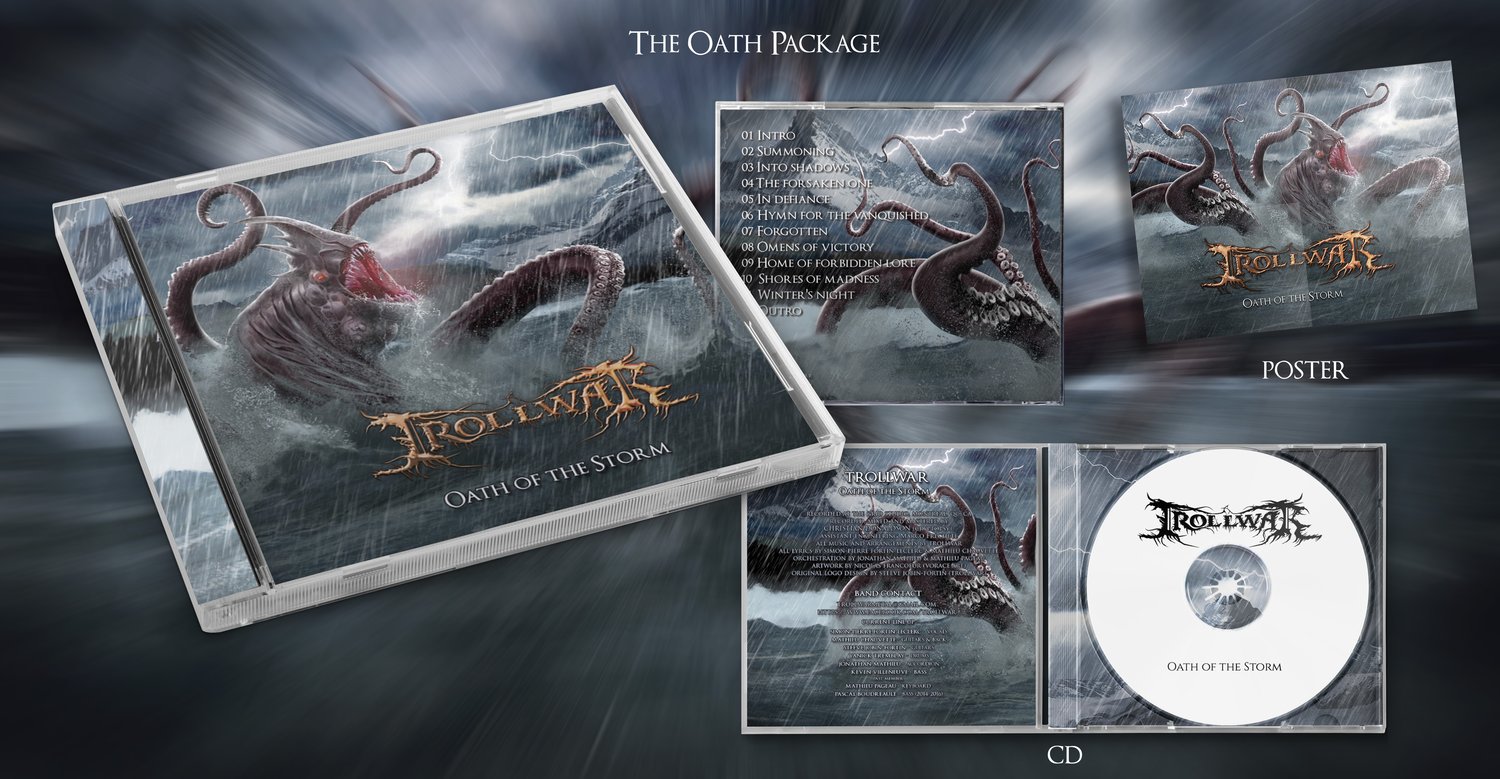 Here you can order The Oath Package !
The package contains:
- '' Oath of the Storm '' Physical cd in a Jewel Case
Oath of the Storm Track listing:
1. Intro (1:47)
2. Summoning (6:12)
3. Into Shadows (4:40)
4. The Forsaken One (3:47)
5. In Defiance (5:00)
6. Hymn For The Vanquished (4:43)
7. Forgotten (5:36)
8. Omens of Victory (4:28)
9. Home of Forbidden Lore (5:24)
10. Shores of Madness (5:03)
11. Winter's Night (5:15)
12. Outro (3:02)
Album Length: 55:01
About the album:
The writing process of this album began shortly, a few months after earthdawn groves in 2013. We had several changes of line-up, but we still pushed on. we also made the decision to create our new sound with orchestral work to provide a different experience to the listener. We can cheer jonathan for all the hours that were spent at this sake. On this album, the feel is way darker and deeper than "Earthdawn Groves", but we keep following the same path. Starting from a blend of blackened folk metal, we worked really hard to develop the melodic and dynamic aspects that forges our sound. Adding an orchestral aspect to both the album production and live act will result in epic and astounding results!
Recorded at The Grid Studio and produced by Chris Donaldson (Cryptopsy) along with Marco Fréchette
Lyrics
Trollwar's lyrics are mainly inspired by books such as Tolkien's or Lovecraft's. It can also be inspired by mythological events such as the ones in old European mythologies.
Links
instagram : @trollwarmetal
twitter.com/trollwarqc
youtube.com/trollwarfolkmetal
stream us on spotify
Artwork by Nicolas Francoeur (Vorace-Art)